Home stereo / LCD and LED modes
TouchPad / Full size / LCD and LED modes
Portable / LCD and LED modes with different sizes
Car stereo / LCD and LED modes

CD Drawer Open Animation / LED mode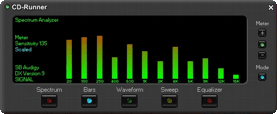 Spectrum Analyzer using Scaled / Bars / LED mode, normal

Spectrum Analyzer using Scaled / Bars / LED mode, wide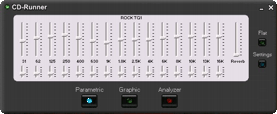 15-band Equalizer using Parametric EQ mode

31-band Equalizer using Parametric EQ mode
Disc Library, List View Display

Disc Library, Thumbnail Display
Media Server, List View Display

Media Server, Thumbnail Display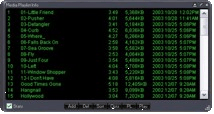 Sizable playlist editor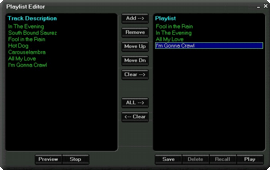 Classic playlist editor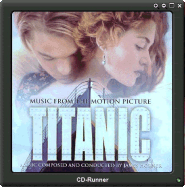 CD Covers Viewer



Home stereo / optional wide display mode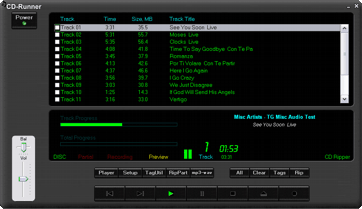 CD Ripper Main Screen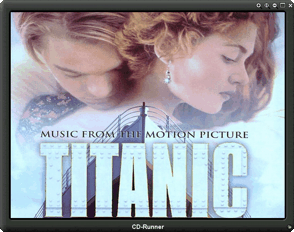 Media Runner playing DVD movie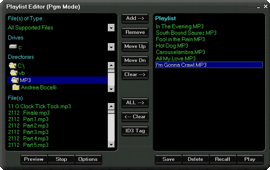 Media Runner Pgm Playlist Editor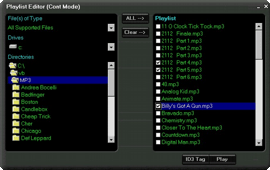 Media Runner Cont Playlist Editor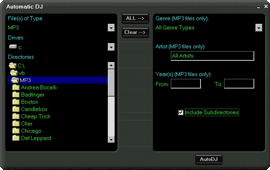 Media Runner Automatic DJ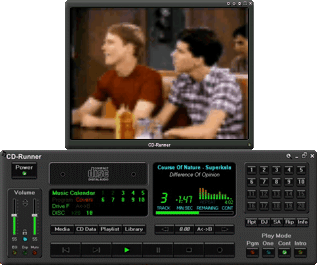 Media Runner playing movie file

CD-ROM Runner

CD-ROM Library

When Media & Audio CD Runners are minimized while playing, this handy pop-up "Ribbon" floating control panel appears.

Open the Ribbon control panel to view a mini-display & access the volume control sliders.

Press the EQ LED to display a popup Bass & Treble control.

CD-Runner has been designed with a wide variety of setup options to help customize the look and feel of the application.

The faceplate displays (skins) may be customized with different fonts, colors, 3D themes, LCD modes, etc.

Disc Library CD booklet and insert print options.

Disc Library CD labels print options.

Enter and view information for any music entry (Audio CD, LP, DVD, etc.) with lots of custom options...